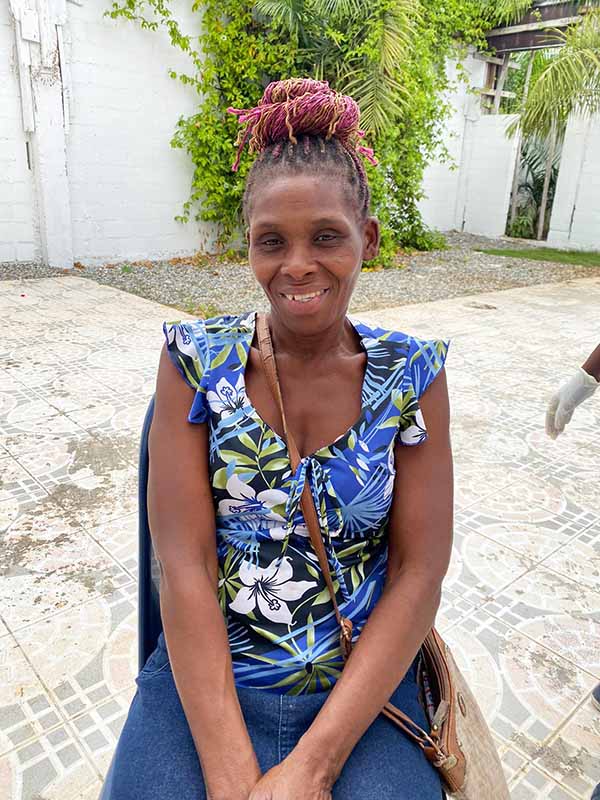 A group of associates sat on the edge of their seats as we worked through a class on the mobile application AEI Para Ti.  They were enthralled by the story of Rosa, a fellow entrepreneur who didn't understand the importance of separating her personal finances from that of her business.
An associate, Angela, raised her hand to share a personal example. Angela, a thin woman who just turned 40, sells produce from her farm along with personal products like shampoo at the local market.
"I have an example of the importance of keeping the business' money separate from the family money," she said excitedly.
When I got married the second time, we were very poor. We lived in the city (Santo Domingo) and we only had a twin-sized bed.  We didn't even have plates, so we ate what little food we could make out of an old empty butter container. I begged my husband to let us move to the country where life is more affordable and I could make a living growing plants. 
My husband kept saying no, and we were so poor, so very poor.  Finally, I told him I would go ahead to the country with my child from my previous marriage; I couldn't live like that anymore.
I arrived to a small rural town with only 30 pesos (about 80 cents) and I was pregnant with another child.  I used the coins to buy a bit of cornflour, salt, oil, and a couple slices of sausage.  I fried up tiny corn cakes, topped them with the sausage, and sold them for 3 or 4 pesos each.  By the end of the day, I had 39 pesos!  Instead of using those 9 pesos for myself and my child, I bought the same materials again, but this time a little bit more of each.  We did this every day, walking up and down the roads selling the corn cakes.  I kept reinvesting in my little business, saving up money.
A long, long time later I had saved up 15,000 pesos ($300 USD).  There was a plot of land I always walked by that was for sale for 20,000 pesos ($400 USD).  Every day I tried to convince the owner to sell it to me for 14,000 pesos.  I knew God had set apart that land for me; it would be the land where my children would harvest fruit for our family.  Finally, one day I convinced the owner and he sold me the land for 14,000 pesos! 
I used the other 1,000 pesos to buy plants for my children to one day harvest.  My husband finally joined me again.  Today, many years later we have avocado, plantain, and many other trees.  My children harvest our fruit, and I sell it in the marketplace for a profit.  As I sit here today, my husband is cooking lunch for our family. 
This is why it's important to separate the business' money from the family's money.  This is why it is important to keep them separate, and to be persistent, even when times are difficult.  Sorry for talking for so long, but I think it is a good example.
We all stared at Angela in silence for a moment until I recovered my voice.  "That is an incredible example of the importance of persistence and discipline," I added, moved.  "Imagine if Angela had taken the 9 pesos she made that first day and used it to buy two bananas for her child.  While it would have brought her and her child joy, the next day Angela would be right back where she started.  Instead, Angela sacrificed her own comfort and invested all she had in the business because she was dreaming about a better future."
Angela had the discipline to suffer extreme poverty and hunger because she was dreaming about the fruit her children would one day harvest.  Because of her discipline, she escaped from that extreme poverty to provide for her family.
Angela is the reason we at MoveUp strive to provide actionable education to the people who need it most.  We want to equip the "Angelas" with the knowledge they need to dream and, with discipline, take the difficult steps today so that tomorrow will be a little bit better for them and their families.