As hurricane season progresses in the DR, winds of change blow through MoveUp as well. As some of you probably saw on our LinkedIn, I've (Marlena) moved into the role of Chief Strategic Officer and we've brought Píndaro Peña onboard as the new Program Director of MoveUp. He is doing an excellent job, bringing his past consulting experience to MoveUp to help us scale up our operations and sales. Saira, one of our content writers, was promoted to Customer Support Specialist, where she now manages our platform, content, augmented analytics, and relationships with our partners.
As our team grows, our business evolves as well. Since our last blog post, we've written 18 new courses and published 100 new lessons. Some of our users' favorites include a basic course on math, an advanced course on saving, and a set of mini-courses celebrating International Women's Day and other international holidays. We've also brought on a new partner, and have a couple of others exploring MoveUp through demos and pilots.
We've enjoyed speaking at different online webinars and events about our work, and continue to share our findings on how micro education can help empower vulnerable individuals to become more resilient and change their lives, families, and communities.
During EdApp's first virtual summit, '"Rewrite the Playbook", the 29th of April, 2021, Marlena presented the MoveUp program to the 6,000 participants during a Case Study. She focused on the importance of having Empathy & Collaboration with Learners in order to "rewrite the playbook."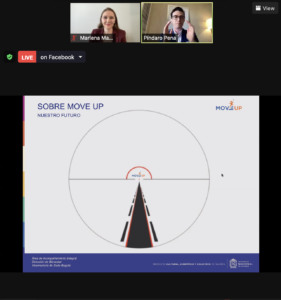 As COVID continues to challenge the Dominican Republic's economy and healthcare system, we've seen so much hope and progress. We're encouraged to hear stories of innovation, even during a period of so much challenge. 
Summer has been an exciting whirlwind for us. We'd love to hear how it's been for you and your organization. Reach out for a call, demo, or just to say "Hi and happy summer."