2020 has been an incredibly challenging year for most of us, and that includes MoveUp users as well. The vast majority of individuals using our application are microentrepreneurs who live in vulnerable communities. According to the World Bank, for the first time in 20 years, global extreme poverty will rise in 2021. Many of our users are struggling to not fall into extreme poverty (living on less than $1.90 a day).
As a result of the pandemic, more than 50% had to close their businesses temporarily, and not all have been able to reopen. Most are struggling to make ends meet this holiday season.
Yet we have heard so many incredible testimonies of hope and change this past month. Despite the many challenges, our app users share how our classes have given them hope, helped them pivot their businesses, and brought joy to their families.
From Depression to Joy
When I called Mariela she was happy to share with me her experience with the app. She started talking about her favorite courses and had her 16-year-old daughter join the conversation. Her daughter, Johanna, also took our courses and passed on what she learned to her mom and 3 younger siblings.
Mariela explained that before downloading the app, she felt complacent about her business. She lacked motivation and didn't know what to do to increase her sales. When her daughter started taking courses on MoveUp, both of them realized the importance of good hygiene and customer service.  Mariela sells grilled sweet potatoes, which she used to leave on a table outside the house. They frequently had to swat away flies and had few satisfied customers. After taking a couple of lessons, Johanna had an idea: it was likely the flies were driving away customers. To get rid of them the family started keeping the cooked sweet potatoes on top of the oven, which the flies avoided due to the heat.
To encourage people to stop by at the house, Mariela put into practice our lesson on customer service: she had her younger children greet potential customers with a smile as they passed by.  Sales started increasing, and as a byproduct, Mariela's four children became more interested in the business.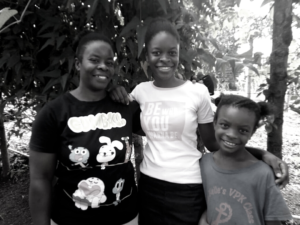 Johanna also took a course on homeschooling. She was already helping her younger siblings with their schoolwork, but the course gave her ideas on how to continue to teach math using beans, corn, and other household objects. She realized how important it is to supplement what her siblings were learning via virtual school with additional learning at home.
Mariela shared, "Before, I felt depressed about my business, but the app has changed my mentality. My children sense my motivation, and they are also motivated and happier."
We hope your family is also filled with joy and hope this holiday season, and that despite the challenges, you too are motivated for 2021.
Names changed, photo & story used with permission.
To learn more about MoveUp and how we use digital education to empower others, please reach out.