Earlier this month we celebrated a victory at MoveUp. We finished the last of 31 lessons in our course, "Aprendiendo a Leer" (Learning How to Read). This course will hopefully be the first of many in our Learning How to Read & Write series.
The series is aimed towards illiterate adults in the Dominican Republic who own a basic smartphone and want to improve their reading and writing skills. This first course has a lesson for each letter in the alphabet, where we teach users how to recognize, pronounce, and write the letter. The course is completely narrated so a user can take lessons on their own, though we recommend a family member, friend, or coworker be present to help when needed. We use photos, games, quizzes, surveys, and more to make the course user friendly and engaging. Users are encouraged to have a notebook next to them while taking lessons so they can practice drawing the letter themselves.
At first, we were hesitant to develop this course. Due to its unique nature and market, it took more than twice as long to produce than other courses. Additionally, we were unsure the course would reach the individuals who needed it most. After careful consideration, Rosanna, our expert in education and learning pedagogy, assured us she could develop a course that was simple, engaging, and achieved its goal of teaching adults how to write the Spanish alphabet. Next, our partner Esperanza International developed a field execution plan to reach a pilot group of their clients to test out the course.
Initially, the adoption of the course was slow. It helped that all course lessons are downloadable, so users downloaded lessons while connected to Esperanza hotspots, then took the lessons whenever most convenient for them. When they connected again to the hotspot or any other internet, their results automatically uploaded. As we released more lessons, enthusiasm for the course grew, and course completion started to rise.
At the beginning of October, we realized the course completion rate for this course was much higher than our other courses. The intrinsic motivation of these users is high, and they are determined to take the lessons and apply their learning. Users who start learning the alphabet are much more likely to finish all the lessons in this course than a typical user taking another course.
One day in September, an Esperanza team member arrived in a community to find a 12-year-old girl using the course to teach her mother and a friend how to write their letters. Later in the month, another Esperanza team member helped a group of users to write their names for the first time! Stories like this show the course is popular and successful in helping students achieve their reading and writing goals!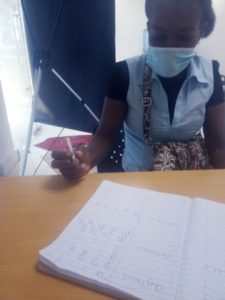 Our successful pilot of this course confirmed there is a demand to learn how to read and write, and that a digital course can successfully teach the basics. It also emphasized the importance of having a supportive community (like Esperanza International team members, a friend, or a neighbor) to help encourage and guide learners in their journey towards improved literacy.
These conclusions remind us that learning is a lifelong journey, and hopefully, a journey none of us walk alone. I encourage you to take steps forward on your own learning journey and invite a friend to accompany you.
MoveUp provides digital education to underserved people groups, including those who are digitally and alphabetically illiterate. Reach out for more information on how we can help your organization's beneficiaries grow professionally and personally.