Today is a great moment to give thanks for our freedom as we remember the September 11th attacks of 2001. In the United States, as well as many other countries around the world, freedom is such an innate right that we often take it for granted. Freedom of expression abounds, and in general, access to basic rights and services such as education and healthcare are available. This is still not the case in many countries and communities.
Several years ago, I met an eighth-grade girl, the only female graduating in her class, in a lower-class neighborhood of Santo Domingo (Dominican Republic). She was proud to be graduating, but unlike the majority of her classmates would not be going to high school in the fall. Her mother owned a small salon that barely made enough to support the basic needs of their family. The 8th grader calculated that the $2 daily bus fare to get to and from high school would be impossible for her family to pay. She proudly declared that she would be applying her education at her mother's salon, using her math skills to grow the family business until the salon was profitable enough to pay for her high school education.
I have not heard back from the budding entrepreneur, but sincerely hope she was able to achieve her dream and is once again a student.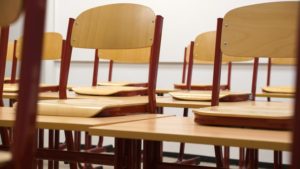 Stories like these remind us that while education is a right that should be accessible and available to all, it often is not, resulting in systemic injustice and poverty.  Breaching this gap and ensuring that high-quality education is accessible to everyone must be a priority.
It is a priority for us at MoveUp. We educate entrepreneurs, like the girl's mother, to be able to grow their businesses and provide a better life for themselves, their children, and their communities.  Our goal is to empower these individuals to change their lives, applying the actionable knowledge they learn to become less vulnerable and more resilient.
We know how education empowers, and have seen first-hand how it can free families from cyclical poverty.  Often all that is required is connecting an individual to a set of culturally relevant lessons on her smartphone, and providing a platform for her to ask questions and receive feedback as she implements what she's learned. In doing so, individuals are changed, local businesses grow, and more 8th grade girls can continue on to high school.
For us who are free to learn, who have at our fingertips thousands of online classes, community colleges, and training centers nearby, it's time to say thanks and pay it forward.  Let's not take our freedom to learn and the myriad of opportunities available to us for granted.  Instead, let's apply that knowledge and use those opportunities to make a positive change in the world and provide more of these opportunities to those who have none.
Interested in MoveUp and how our education promotes local empowerment? Reach out today!